Customer Reviews
Filter Reviews:
pumping bra
breast
side
pumping
place
flanges
strap
Velcro
11/16/2019
Vicki G.
United States
Works great
So far the pump strap has been awesome! It does exactly what it is supposed to. My only complaint is that it seems looser than it did when I got it, it must stretch over time. I do Velcro it as tight as I can and when I put my pump parts in it still feels loose. Even a little loose it still does it's job, and I would buy another if I needed it.
SD
11/13/2019
Shanae D.
United States
LaVie nursing bra
I love the color and thickness of bra however The material was stiff and it was a bit difficult to get to stay tight on myself.
11/08/2019
Kayla St. Pierre
Canada
Amazing!
I bought the pumping strap and it does a perfect job! I wish I would have found this one first because I bought several other pumping bras that never held up the pumps in place. I have a smaller chest so this strap allowed me to pull it really tight! Game changer. My wrists were literally cramping up before because I could only pump one breast at a time. This strap not only saved my wrists but cut my pumping time in half and allows me to multi task, soothe my baby if need be, eat, etc ... I am even writing this review while pumping ;) Highly recommended.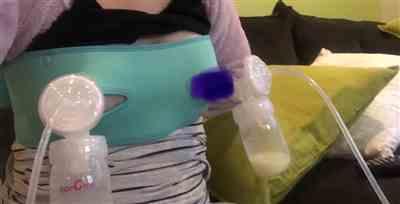 11/07/2019
Zainab
United States
Good bra but not the best for petite women
This is a good bra but it's not the best option especially for petite women due to the strap being taped from the side. I'm petite so when I tape it the end of it covers the right side of my breast! I think the design needs to be modified to be similar to the lansinoh bra where taping it happens in the back. That being said, I like the openings for the flanges as they are easier to insert compared to other bras.
11/04/2019
Nellie M.
United States
Hands Free Bra
The hands free bra serves its purpose for holding flanges in place and is made of soft fabric. I've had others that had scratchy portions, but this doesn't seem to be an issue for this bra. There are a couple of features that I'm on the fence about. The slits for the flanges can be a little awkward. There isn't a way to really control the side to side placement other than having it be on super tight. I also find it difficult to secure the bra in it's intended position. I think I'm actually wearing it upside down and inside out in order to make the velcro easier to wrangle.